Welp, it's that time already!
Time for some server maintenance. My main pool on my second TrueNAS server (which is primarily only for ephemeral services and some VMs) has only a 250GB 850 Evo… and it got filled up very quickly.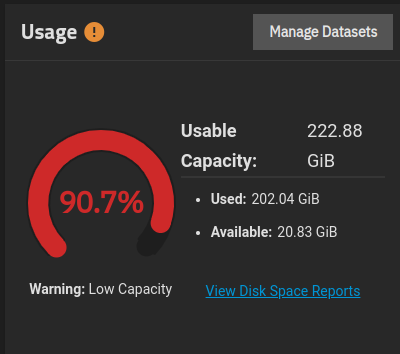 Between the VMs, the frontends, and especially Matrix Synapse, it's already at 91% usage! Since I have to upgrade the storage, I'm going to also use some parts I've had sitting around for the better part of a year to upgrade the rest of the server. Upgrading to a previously used 1TB P31 Gold, and going from an old Skylake 6700K to a Ryzen 7 3700X. Nice!
The planned maintenance will be scheduled on Sunday, March 26th at 7PM-8PM EDT Maintenance has been pushed to April 6th at 10:30PM EDT.
All my services will be offline at that time (Yes, I know, even the status checker…I need to offload that lol) however I do expect it to take only about 20-30 minutes.
After the maintenance is over there will be more services added, and I'll have another blog post about it.
Stay tuned, I'll keep updates over on my twitter.